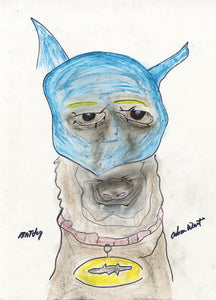 "Bat Dog" Adam West Original Artwork Print | Signed by Adam West | 18" x 24" | Numbered Limited Edition
Adam West's wonderfully charming portrait of Batman's best friend and four-legged crime-fighting sidekick: Batdog.
Criminals on Canvas is a series of original paintings by Adam West himself. Only 100 prints of each character are available. Fewer, in Batdog's case, because he's the top seller. They are signed, numbered and printed on the finest paper.
18" x 24"